Community Involvement
Event
10/15/19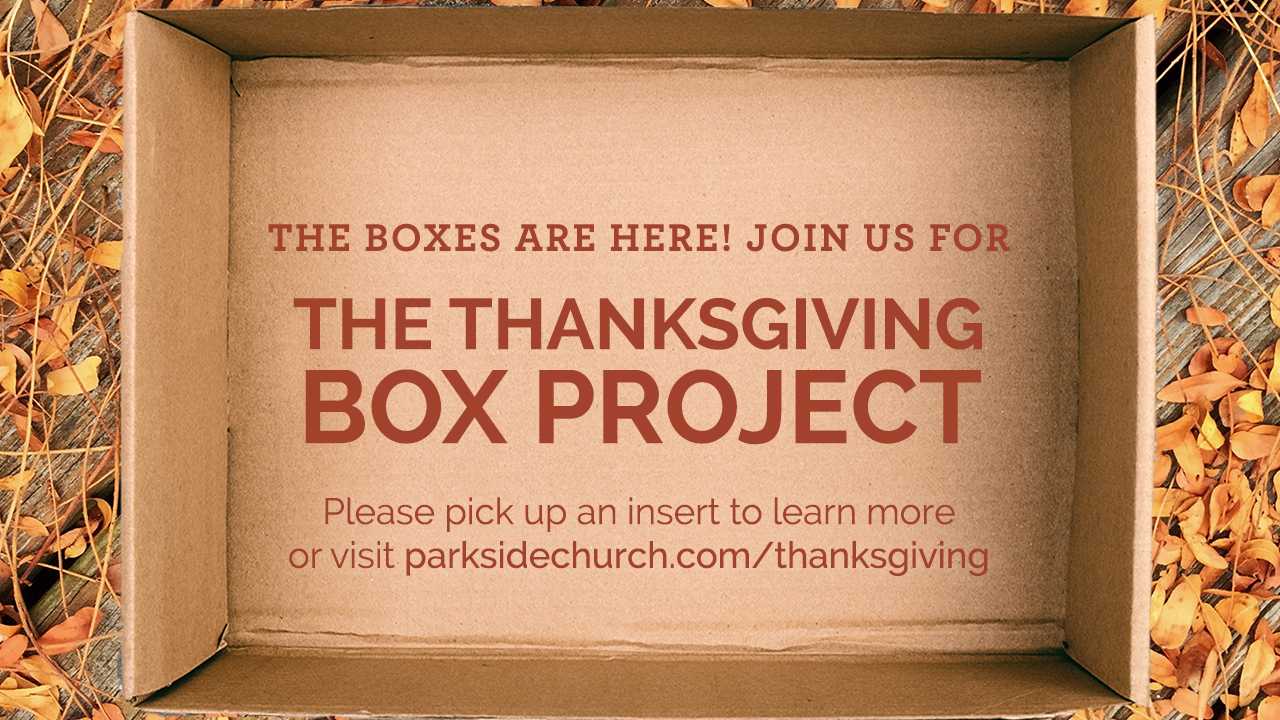 This year marks the 33rd year that Parkside Church has endeavored to provide complete Thanksgiving dinners to families who might otherwise be unable to enjoy the Thanksgiving holiday. There are several ways you and your family can participate in this fun and meaningful project that not only bestows kindness and love to our neighbors, but also brings together our church family through this service opportunity. Join us this November as we partner with Scranton Road Bible Church to help make the holiday season brighter for families in Cleveland.
THANKSGIVING BOX PROJECT UPDATE. Thank you to those who have picked up boxes to fill! If you have a box from us, please plan on bringing it back to the church by Wednesday, Nov. 20. 
If you weren't able to pick up a box this year, there are still three other ways to help: by donating money for a turkey, loading the truck, or distributing meals. See numbers 2-4 below. Thank you for your generosity!
Four Ways to Help with the Thanksgiving Box Project
1. Prepare a Dinner Box
Due to a special donation this year, 12"x18" cardboard boxes are available for pick-up to use for the project. Pick one up at the storage room across from the Common Grounds Cafe/ Books by the Park.
Please include the following:
1 muffin mix
1 roll mix
2 cans of vegetables
2 cans of fruit
1 large box of instant potatoes
1 large can of yams
1 large box of stuffing mix
2 packages of pudding mix
1 dessert mix (cake, frosting, cookies, pies, etc.)
1 jar/can of pickles
1 jar/can of olives
1 can cranberry sauce
1 small box of rice
1 can of black beans
1 jar/can of turkey gravy
1 turkey roasting bag
1 disposable turkey roasting pan
            Please keep this item separate from the box for delivery.
Additional optional items can be added such as coffee, tea, candies, soup, jellies, nuts, peanut butter, or macaroni & cheese. Please only non-perishable food items- no paper products or toiletries. Sorry, no homemade products.
If you are part of a group bringing items for a box, please wait to bring the box to church until it has been completely filled. Also, consider putting together more than one box per group.
Boxes may be dropped off at the storage room across from the bookstore/cafe any time between October 27-November 20. Approximately 300 boxes will be needed.
2. Donate Money for a Turkey
You can make a contribution to help cover the cost of the turkeys. Please write "Box Project" on the memo line of your check and drop it in the offering plate. Please do not put it in your dinner box.
3. Load the Truck
Strong backs are needed for less than an hour to load the boxes into the trucks on Saturday morning, November 23 at Parkside at 8am. Please call Tracy at (330) 316-4539 if you can help with this stage. She needs approximately 15 volunteers.
4. Help Distribute the Meals
Join us on Saturday, November 23, from 10am-12pm, at Scranton Road Bible Church for the distribution. No need to call, just meet us at Scranton Road Bible Church, 3095 Scranton Rd., Cleveland, 44143.
Directions to Scranton Road Bible Church:
Take 480 (east or west) to 176 North. Travel on 176 North approximately 2.25 miles to the West 14th Street exit and go north. When you get to Clark Avenue (about .4 mile), turn left. In about .5 mile you will arrive at Scranton Road. Scranton Road Bible Church will be on the corner.
For more information, please contact Jacque at jrplatek@parksidechurch.com or Tracy at teengland@yahoo.com.
---