Parkside News
Event
10/26/21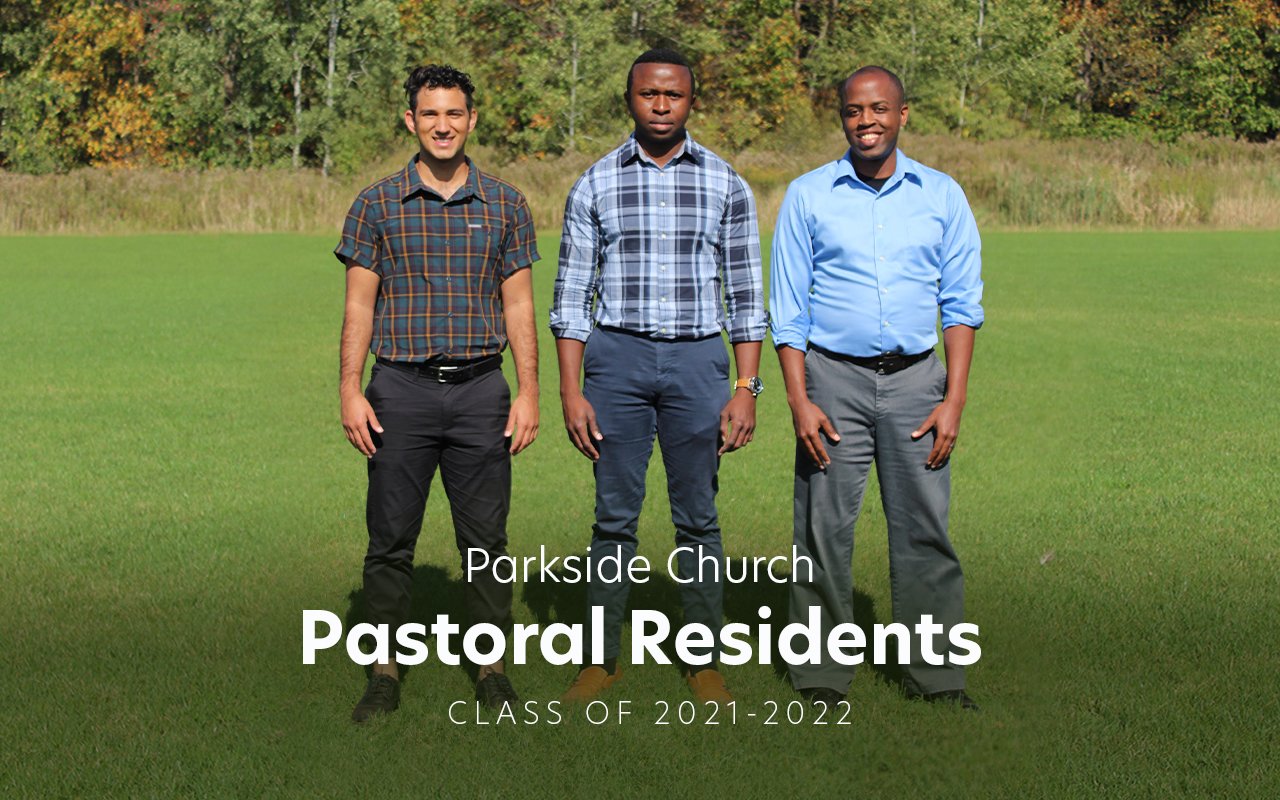 Get to Know Noah Senthil, Samuel Sanya, and Andrew Johnson
Down the halls and around in different ministries, you'll see some new faces showing up to serve, learn, and teach. The new pastoral residents at Parkside Church are a unique set of men who are here to discern their callings. What the three residents share is a strong sense of seeking wisdom to discern whether pastoral ministry is right for them.
"There is a danger among pastors whose calling is very individualistic. Being in a church where others can verify the subjective desire to be a pastor is very important, as God uses his people to lead his people," explained Andrew Johnson. Andrew began to realize God was calling him to ministry after hearing a guest speaker at a Tuesday night Bible study in college. From there, he set out to earn a Masters of Divinity from Cairn University and then came to Parkside to discern if vocational ministry was a good fit. No matter where he finds himself post-residency, Andrew hopes to teach the Bible regularly wherever he is.
Noah Senthil pursued the residency for affirmation of his calling as well. "This whole call to ministry has been communal, with godly men walking beside me," Noah shared. Noah grew up in northeastern Ohio and attended Parkside from a young age, where he was mentored and encouraged by the pastors. After sensing a call to ministry, he participated in numerous opportunities both at the church and at Wheaton College. After graduating with a degree in Biblical and Theological studies, Noah came to Parkside hoping to gain wisdom, experience the different aspects of ministry, and affirm his pastoral call.
Sam Sanya spent several years as a chemical engineer before leaving that field for the residency at Parkside. Born in Kaduna, Nigeria, Sam came to Ohio in 2012 to attend Cleveland State University, where he earned a degree in chemical engineering. Legalism and Pentecostalism are prevalent in Nigeria, and Sam grew up in these contexts. As he began reading and studying the Bible for himself, he also discovered the teachings of Alistair Begg, R.C. Sproul, and John MacArthur. He came to Parkside in the hopes of discerning whether he should enter pastoral ministry as a vocation, and that godly men might speak to his calling. Sam has a desire to share the gospel in his home country. "My heart bleeds for the lack of the gospel in Nigeria," he said.
What You Might Not Know About The Residents
Andrew studied art in college. He met his wife Ruth in the food line at a wedding and have been married since 2016. Together they have two children, Lucy Joy (almost 3) and Moriah Ellen (4 weeks).
Noah grew up in Northeast Ohio and lived in Garfield Heights, Aurora, and Garrettsville. He loves basketball, writing, and hanging out with friends.
Sam grew up playing "soccer" (ahem, football) and follows the English Premier League closely, being a die-hard Chelsea Football Club fan.
How to Pray
Pray for Andrew and Ruth as they care for Lucy and new baby Moriah and adjust to being a bigger family. Pray that Andrew might discern direction for his family and his calling as a pastor.
Pray for Noah as he discerns his calling to pastoral ministry and whether he should pursue schooling full time after the residency or ministry full time with school part time.
Pray for Sam as he discerns the calling of the Lord and the future of where he might serve. Pray for his relationship with his fiancé Moriah to grow and deepen in the Lord as they plan for their future.
---