Parkside News
Event
12/02/20
This year may be the perfect year to discover a few new books to add to your Christmas reading list. Whether it's reading through a daily Advent devotional, sharing a book and conversation with a friend, or developing a family tradition of considering the Christmas story together, here are a few resources we recommend.   
Christmas Playlist, by Alistair Begg

Music is everywhere at Christmas—chart-toppers, carols, children's tunes… Alistair Begg takes us to four songs that were sung by people at the very first Christmas (and his favorite carol).
In this short, winsome book a teenage girl, a respected priest, a group of angels and an old man bring readers to the heart of Christmas, showing them the joy and peace that comes from meeting a baby who lay in the food trough and changed eternity.

Learn More >
---
Repeat the Sounding Joy, by Christopher Ash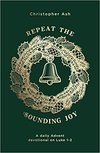 In this Advent journey through Luke 1 – 2, Christopher Ash brings these familiar passages to life with fresh insight, color and depth.
As you soak up the Scriptures, you'll experience the joy of Christmas through the eyes of those who witnessed it first hand, from Mary and Elizabeth to the Shepherds and Simeon. Each day's reading includes a short reflection, a prayer, a carol, and space to journal, helping you to treasure the Lord Jesus in your heart in the hectic run-up to Christmas.

Learn More >
---
The Jesus Storybook Bible A Christmas Collection: Stories, Songs, and Reflections for the Advent Season, by Sally Lloyd Jones
The Jesus Storybook Bible A Christmas Collection is a great Advent or Christmas gift for the family. This premium interactive picture book helps children young and old understand and celebrate the true meaning of Christmas by showing readers that at the center of every story in Scripture is a baby, the child that everything will depend on. 

Learn More >

These resources are available at Books by the Park or through your favorite bookseller. Book description excerpts courtesy of the publisher. 
---