Parkside News
Event
12/02/17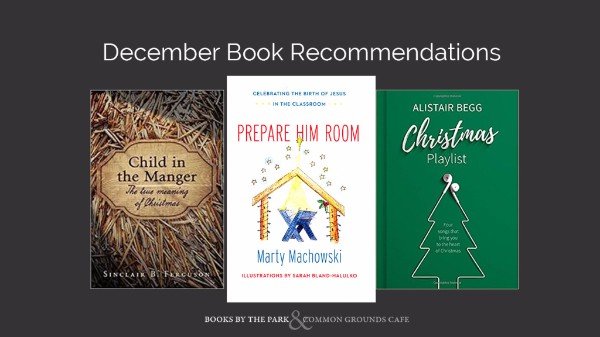 Three Book Recommendations for Christmas
We'd love to recommend three books to you during the Christmas season.  We hope that you'll read one, give a copy to a friend, and talk about it over coffee or a meal.  We trust that these will be a great encouragement for someone who is considering the connection between Christ and Christmas for the first time or coming again to the wonder and truth of Jesus. 

1. Child in the Manger, by Sinclair Ferguson 
We've chosen one book from our friend, Sinclair Ferguson. Alistair says it's the best book he's read on the Christmas story. It's a fantastic book that will help you enjoy Christmas in a new way!
2. Prepare Him Room: Celebrating the Birth of Jesus Family Devotional, by Marty Machowski
Our second book is meant specifically for families and young children. Machowski has written a lovely book which is purposefully oriented around daily advent readings so you can sit down each day with friends or family while purposefully and expectantly preparing for Christmas.
https://www.youtube.com/watch?v=TC3d7Xwztag
3. Christmas Playlist, by Alistair Begg
This book connects the Biblical songs of Christ to the modern songs that you and I associate with Christmas favorites. It's a great little book to give to a neighbor, friend or co-worker.
https://www.youtube.com/watch?v=qE-P0OvHITo  https://www.youtube.com/watch?v=SEK_v9OpvEs 

These, as well as many other Christmas themed books, are available at Books by the Park and also at your favorite online retailer.
---