Parkside News
Event
04/11/14
With so much construction taking place in the much-anticipated Children's Wing, you might not have noticed some changes going on in Fellowship Hall. We are excited to announce that plans for expanding our existing Fellowship Hall are underway. Owing to the severity of this winter, we were not able to start construction quite as early as we had hoped, but now that spring has arrived (technically speaking at least), we're beginning the early preparation work and anticipating a mid-fall completion.

Fellowship Hall has been the busiest room on our church campus. Current capacity is around 200 people and the new structure will add more than 100 seats, increasing our capacity by more than 30%. The new Fellowship Hall will extend out into some of our current parking lot space; however, we will only lose about 20 spaces. Parking will not be affected, but there will be a new traffic pattern around the building.

State-of-the-art audio and video technology will be be incorporated into the new general-purpose space that will feature high ceilings and walls with large windows that will let in lots of natural light. Our kitchen will also be expanded and appliances will be updated which will allow us to  accommodate the numerous events that require food services. We will also be adding much-needed storage and a dedicated loading bay to consolidate our deliveries into one location.

As we continue to build into the next generation, we are hopeful that these improvements to our location will encourage our church family, as well as provide more opportunities to open our doors to the community allowing us to utilize our facilities to glorify God and to help unbelieving people become committed followers of Jesus Christ.
Hear it here first.
Sign up for the weekly Insider and hear updates about the Fellowship Hall as well as other important Parkside news.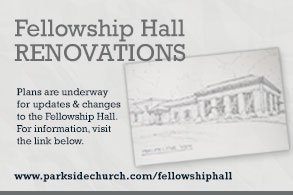 ---