Parkside News
Event
11/21/14
Parkside's new kitchen and meeting space, The Venue (formerly known as The Fellowship Hall)
With Thanksgiving right around the corner, the idea of cooking for this food-focused holiday can be daunting. Luckily, this cooking feat is only an annual event for most of us, but for Parkside's stalwart kitchen team, cooking for hundreds of people is routine business. But add in the challenge of having only one working oven during renovations, and our team has nearly performed miracles these past few months.

"We had the Help and Hope Appreciation Dinner," explains Vicki Orrell, manager of the Common Grounds Cafe and Parkside's go-to person for all things food and beverage related. "That event was a big one of 220 people."

Cheryl Thompson, Parkside cafe/kitchen team member laughs, "220 people in one little convection oven -- a meat dish, a potato dish, a vegetable dish in one oven! We'd get one thing hot, put it in the warmer. Get the next thing hot and put it in the warmer. Do this, move this, get it out. We had four shelves, but still in one oven and somehow we still pulled it off for 220 people!"

"We do as much as we can the day before, but basically it's a typical restaurant kitchen," says Vicki. "The few hours before an event are frantic because everything has to be done at the right time to be kept hot or cold. I'm so grateful for Cheryl and Sunny [Krejci] because they know just what to do."

While Vicki, Cheryl, and Sunny may work together like a well-oiled machine, the changes and updates to their work space will make them even more efficient. In addition to the kitchen's original equipment, they will now have two brand new ovens and a stove, new portable bars that provide hot-and-cold buffet-style food, a new freezer and a separate cooler, a new dishwasher, additional storage space, a preparation space, a dedicated loading bay area for deliveries, and a new coffee station.

"You have no idea," Cheryl deadpans when the topic of coffee comes up. "For Basics, we're doing three days of non-stop coffee on a machine that brews 30 cups at a time. Monday morning at 8:00 am we start brewing coffee until Wednesday afternoon at 2:00pm. It is constant."

"On Sunday mornings, we have to make enough for about 400 people for the LIFE Groups," Vicki says. "It takes hours and that's just for LIFE groups. That doesn't include what's needed for the cafe, plus doing the baking for the cafe. It'll be great having the space to get the LIFE groups' coffee done while I'm doing the baking and making coffee for the cafe."

Space is the key ingredient to this renovation of Parkside's 21-year-old kitchen and meeting space. Historically, The Fellowship Hall had been the busiest room at Parkside with a room capacity of approximately 200 people. The Venue adds more than 100 seats, increasing the old capacity by more than 30%.  State-of-the-art audio and video technology will be incorporated into the new space that features high ceilings and walls with large windows that let in lots of natural light.

"I'm so grateful for this [renovation] which will bring more events and people into the building," says Vicki. "That's what I really think His plan is. I can see that happening."

The team agrees, and Cheryl adds, "We do this to serve God's family, that's why we're doing it. We're not doing it to so that people can say, 'Wow, look at us.' It's a ministry to the people of Parkside which is our family."

The Venue's First Event

The Venue is getting its finishing touches over the next couple of weeks. The first event to be held in the new space is the Sojourners' Christmas Celebration on Friday, December 5, at 6:30 pm. Anyone age 50+ is invited to join in a festive time of Christmas celebration in the newly renovated space. Visit our website to register online, or sign up at the table in the Commons hallway on November 23 or 30.
To see photos of the renovations, visit our flickr page.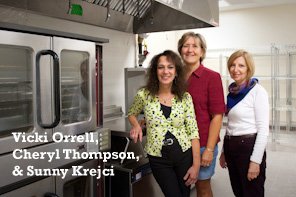 ---