Classifieds
---
Posted: June 30, 2022
Hello - My car's transmission recently went on it, and the mechanic can't look at it until July 14th. I've already re-built the transmission once and it's a old car, so if it needs another transmission I may not be able to fix it. If anyone has ...
Posted: June 26, 2022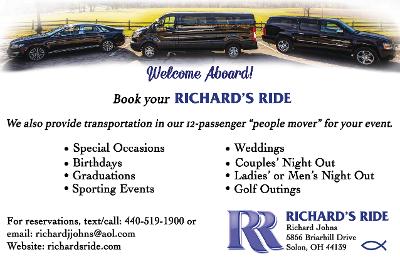 RICHARD'S RIDE: Book your ride! Airport Transportation or Special Events: door-to-door service; commercially insured; impeccable driving record; trustworthy. Non-smoking, clean, well-maintained, sanitized vehicles. Can accommodate from 1 to 11 passengers for airport transport or special events such as weddings, graduations, sporting events, birthdays, couples'/ladies'/men's night out ...
Page 1 of 1.