Prison Ministry
Event
09/25/18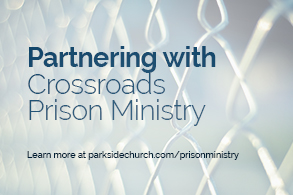 Remembering the Prisoner
For more than 16 years, Parkside Church has partnered with Crossroads Prison Ministries to provide biblical instruction to people in prison. Our volunteers currently serve 155 prisoners, both men and women, out of the 50,000 individuals that Crossroads reaches each year. While these numbers represent significant and meaningful help, more volunteers are needed to reach the more than 2.4 million people who are incarcerated in the United States alone.
Serving in a Different Way
"My wife, Marty, and I were in the initial class," says Dave Shold, who has been with the ministry for the past 16 years. "I found this [opportunity] as a way to be involved in discipleship and evangelism, and it's easy to do. I'm not a good public speaker – I'm not even sure I'm a good private speaker – but I can write a letter. This [ministry] is a way to serve that you might not be aware of."
Discipling One Another
For Anne Marie Francisco, a volunteer for past 13 years, the prison ministry is a favorite. "[The students] really want to learn," she explains. "It's never a waste of time and I tell them, 'Your time is never wasted when it's spent in the study of God's Word.'" Doug Cupery, Crossroads' Church Mobilization Director, also noted at a recent informational luncheon at Parkside that all discipleship is mutual. According to Cupery, the group's mentors have remarked about the surprising insights that students can have, especially from those who did not grow up going to church. Even more poignantly, Cupery notes that while the students' perspectives and experiences may be very different from what we are used to, we can all find commonality in Christ. "Fatherlessness is rampant throughout the prison system, so when we start talking about God, the Father, what is their reference point?" Cupery asks. "Through the letters that [mentors] are writing, we try to help [the students] understand who they are in Christ."
How It Works
Crossroads acts as a conduit between the church mentor and the prisoner. They send Bible study materials to students who return their completed studies to Crossroads. Those studies are then forwarded to mentors. As a mentor, you always remain anonymous. Training is provided, as well as help and advice from other Parkside volunteers.
If you are interested in becoming a Crossroads mentor, please complete our volunteer form. You will receive a formal application to complete, as well as detailed instructional materials to familiarize yourself with the Crossroads program, its goals, and procedures.
Questions?
Contact Parkside Prison Ministry Coordinators Dave and Marty Shold at dmshold@juno.com or Jacque Platek at jrplatek@parksidechurch.com for more information.
Download an informational flyer from Crossroads Prison Ministries here.
---