Community Involvement
Event
05/08/20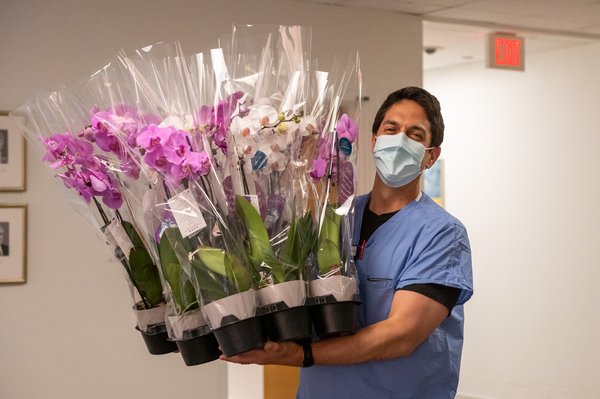 On Wednesday morning, a white semi-truck backed into the Parkside Church parking lot and dropped off pallets containing over 4,000 full-size potted orchid plants. This was one of many trucks sent out by Green Circle Growers to drop off donations of over 50,000 orchids to cities across the country including New York, Los Angeles, Tampa, and Cleveland. "We realized our nation's healthcare workers have been experiencing some of the darkest days of our lifetimes. If our orchids can provide a bit of joy and color for these very deserving individuals, we felt it was the least we could do during this difficult time." Scott Giesbrecht, co-CEO of Just Add Ice and Green Circle Growers said in a statement. Four local churches volunteered to help the company disperse the flowers in Cleveland.
At Parkside, once the boxes were unloaded from the truck, small teams of pastors, elders, staff, and their spouses worked in shifts to unbox plants, add an appreciation sticker to the wrapping, and rebox plants to be transported. "We have family members that are nurses, so it hits close to home," said Kathy Myles, who volunteered to help. "This is one small way to say, 'Thank you,' and show our gratitude to those who are caring for the sick during this time."

"It is a visible way we could demonstrate the love of Christ to our healthcare workers," added Julie Pelletier.

A Welcome Delivery
Thursday morning, volunteers loaded two Penske trucks with flowers and headed in different directions. One crew drove south to Cuyahoga Falls where Western Reserve Hospital received 1,000 flowers. Here, not only each nurse and doctor received an orchid, but also every employee including housekeeping, maintenance, and administration, who together have been a part of turning the hospital into a COVID-19 testing facility. "I'm so overwhelmed with this amazing guesture," said Nealie D'Abate, Vice President of Organizational Development at Western Reserve Hospital. "We've had food and equipment donations, but very few donations like this. The flowers came today and the whole hospital is buzzing with excitement. It made my staff's day."
Throughout the day, Parkside also made deliveries to University Hospitals Geauga, Marymount Hospital, and local nursing homes. "Because of God's love for us, it is right that we love our neighbor and extend grace and gratitude to people," said Pastor Brandon Smith. "This was a great opportunity for us to do so for our beloved healthcare community."
 
To follow the story nationally, look for the hashtag #FlowersForTheFrontline on social media.
---