PKS Membership Course
Event
05/21/21
Location: Room A207
Start Time: Sun 6, June 2021, 11:15 a.m.
End Time: Sun 6, June 2021, 12:15 p.m.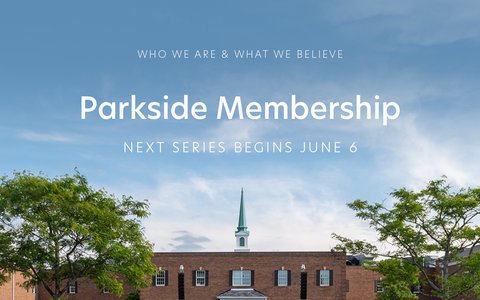 "We have been called to Christ, and as a result of being called to Christ, we are called to one another; and that's why so much of the emphasis of the Bible is on the corporate nature of what it means to know God." – Alistair Begg, Where Do I Belong in the Church?
Throughout the year, Parkside offers membership classes that give an overview of who we are and what we believe. Taught by members of our elder team, the classes run the first three weeks of most months.

Bob Pelletier, an elder at Parkside, often gets asked why we require classes to become a member. "Becoming a member at any church can be a difficult decision for some people. We want people to know as much about our church as possible in order to come to an informed and prayerful decision. Being a member is a tangible way to belong to a local church body, provide accountability, and practice the one-anothers in Scripture."

If you would like to become a member, or are simply interested in learning more about Parkside, we would be glad to have you join us at the start of our next series on June 6 at 11:15am in room A207. Registration is not required.

Interested in learning more about what the Bible says about church membership? We invite you to visit Truth For Life's church membership resource page.
---