Vacation Bible Camp
Event
01/26/18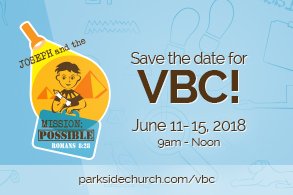 Each summer children ages 4 through grade 5 have the opportunity to hear excellent teaching from God's Word during a fun-filled week. Meaningful music, creative crafts, and super skits are just some of the great activities children enjoy as they learn what it means to have faith in Christ.

This year's theme, Joseph & the Mission Possible!, will explore God's plan to rescue and redeem a people for Himself. As we learn about Joseph, we'll see how God works all things together for good for those who are called according to His purpose. Through the book of Genesis, we'll come to see how Joseph's story points to an even greater "rescue mission" for all of mankind through the Lord Jesus Christ.

Save the week of June 11-15 for VBC and stay tuned for more details as we plan next summer's VBC mission!

Here are some important dates to remember and helpful links:
For Volunteers:
Helper registration opens April 1, 2018.
For Parents:
Kids' registration opens May 1, 2018.
---