Vacation Bible Camp
Event
06/16/17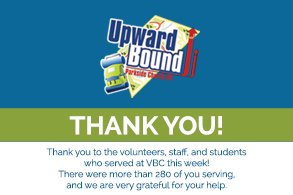 We are grateful to the Lord for His provision of another great week of Vacation Bible Camp ministry. We are also so appreciative of the more than 280 adults and student helpers who served at VBC this past week. Whether "behind the scenes" or "up front," we are thankful for EACH person who gave of their time and energy!

Because of your service, more than 800 campers, along with another 40 mini-VBC children, were shown the love of Christ in various ways. We welcomed children from near and far--some from as far away as Florida! We can say with confidence that God's Word was proclaimed each day with age-appropriate lessons for every child who came.

Our theme this year was Upward Bound, a hiking/camping adventure theme with a Bible focus on the birth, life, death, and resurrection of Christ. Backwoods Burney (a.k.a. Brett Burney) started our Morning Rendezvous playing Reveille to wake up our Guides and Backpackers (leaders and kids) each morning. With energetic singing, engaging skits, and daily Bible verses and "trail marker" questions, our morning assemblies were not to be missed. It was such an encouragement to see many of our VBC kids memorize all of Philippians 2:9-11, even some of the youngest four-year-olds!

The Lord gave us a great week filled with lots of laughter, fun games, and crafts, and most of all, Christ-centered Bible teaching. Thank you to each person who served and prayed for VBC. Please continue to pray that the seeds planted at Upward Bound 2017 will bear much fruit in the lives of children and family members.

If you'd like to see more photos from VBC, check out our Flickr gallery.

That Christ May Be Exalted,
Kelly Coy
Children's Ministry Director
---