Vacation Bible Camp
Event
05/19/17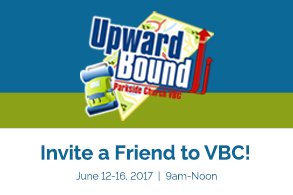 Each summer children ages 4 through grade 5 have the opportunity to hear excellent teaching from God's Word during a fun-filled week. A central Bible theme, combined with an "adventure" theme make for an exciting week of evangelism and discipleship. Meaningful music, creative crafts and super skits are just some of the great activities children enjoy as they learn what it means to have faith in Christ.

Parkside kids—invite your friends to VBC! A PERSONAL invitation is the BEST invitation. Each paid registered child can invite unlimited friends for FREE! Every child must be registered-- even "FREE" Friends. Friends should be VBC-age (4 years old-5th grade). The cost of VBC is $8/child and scholarships are available. Contact Kelly Coy at vbc@parksidechurch.com for more information.

Registration Reminders:

VBC Kids' Pre-registration Facts
Pre-registration is open through noon on June 9.
 
After June 9, children may be registered the entire week of VBC at the desk in the children's wing. We never turn any child away--even on the last day!
 
Registration is $8/child or $24/family. Scholarships available--contact Kelly Coy.
 
Once children are pre-registered, you will receive an email confirmation and a link to invite friends for FREE. There is no limit to the number of friends your child may invite.
Why should you pre-register children?
Pre-registering means no waiting in long lines at VBC!
 
Pre-registering allows you to pick up your child's materials in advance on Sundays, June 4 or June 11, after any MORNING service. This provides you with all the information you need about your child's group, drop-off location, etc. Your child will get his/her journal and music CD to begin preparing for VBC week in advance.
For more information, please see our VBC FAQ on our website or contact us at vbc@parksidechurch.com.

Attention VBC Workers!

If you signed up to serve at VBC the week of June 12-16, please plan to attend the orientation meeting for your department. Check the website for meeting times and locations.
---