Sojourners
Event
05/11/22
Location: Ohio Star Theater,1387 Old Rt. 39, Sugarcreek, OH 44681
Start Time: Sat 23, July 2022, 1 p.m.
End Time: Sat 23, July 2022, 6 p.m.

Join us Saturday, July 23 for a day in Ohio Amish country!
We have reserved a block of seats at the Ohio Star Theater in Sugarcreek, OH to see the musical Josiah For President at 1:00 pm, followed by a family-style dinner at 4:15pm at the Dutch Valley Restaurant, just a few steps across the parking lot!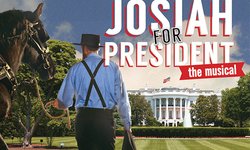 About the Show: Josiah For President
When former Congressman Mark Stedman throws in the towel on his presidential campaign, his only choice is to return to his home state and decide how to spend the rest of his life ... until he meets Josiah Stoltzfus, an Amish farmer from Pennsylvania.
Stedman learns more from Josiah in a few hours than in his many years in office. He comes to the conclusion that someone like Josiah should be running the country. Not a career politician, but someone with a little old-fashioned common sense, someone who's not afraid of rolling up his sleeves and getting his hands dirty. Someone like Josiah Stoltzfus.
Using his old campaign headquarters for a base, Mark Stedman determines to introduce a new candidate to America. Without Josiah's consent or knowledge, he becomes a write-in candidate for the Presidency. Mark pledges to do everything in his power to make sure Josiah gets elected.
Dinner Menu:
*Chicken
*Roast Beef
*Tossed Salad
*Mashed Potatoes & Gravy
*Homemade Dressing (Stuffing)
*Green Beans
*Dinner Rolls
*Beverage
*Selection of Pies
Cost:
Cost per ticket is $50.50, which includes the show, meal, tip, and taxes.
Registration:
Register online below or pick-up a form from any information center. You can also register at the table outside the Venue on Sunday morning June 26.
Registration deadline is July 8.
Transportation:
*Ohio Star Theater is approximately1 hour and 30 minutes from Parkside Church. We are chartering a luxury bus through Baron's Bus for this trip. The bus will leave Parkside at 10:45am and return at approximately 8:00pm.
Baron's bus transportation has several benefits including:
New buses (the oldest was bought in 2017)
Comfortable seating with cup holders and leg room
Free Wi-fi access and phone charging
Adjustable window screens
Adjustable vents for every seat
A clean & roomy restroom
Is thoroughly cleaned daily
Is ADA accessible and meets Federal ADA standards
56 seats are available. Cost for roundtrip transportation from Parkside Church is $30pp/$60 per couple. 
* You may also choose to meet us at the theater. You can find driving directions on the Ohio Star Theater website. 
Register
---