Sojourners
Event
04/22/19
Location: Canal Park, 300 South Main Street Akron, OH 44308
Start Time: Fri 24, May 2019, 8:45 p.m.
End Time: Sat 25, May 2019, 1 a.m.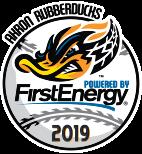 Bring a Friend!!!
Invite a friend for an evening in The Duck Club at Canal Park for dinner and to cheer on the Akron RubberDucks baseball team on Friday, May 24! The RubberDucks are the Double A affiliate of the Cleveland Indians.
We have reserved The Duck Club suite for this event. The Duck Club features a chef-driven catering menu, state-of-the-art AV and unprecedented views of Canal Park. Seating for the game is located in the club area and includes both indoor and outdoor patio choices. Cost is $36.00 per person. Dinner will be served 5:45-7:35 pm. Game time is 6:35 pm. Event will take place rain or shine.
Amenities Include:
* Special entrance directly to The Duck Club. The Club is on the second floor and has an elevator.
* A premium buffet dinner starting an hour before the game. Fountain non-alcoholic beverages are included in the price.
* The Club holds up to 150 people and it will be ours exclusively.
* The Club is climate controlled.
* Access to "club only" restrooms.
* The Club overlooks right field.
* An exclusive outside patio for people who want to sit outside.
The $36 per person fee includes use of The Duck Club, entrance into the stadium, and the premium buffet dinner.
Canal Park is located at 300 South Main Street, Akron, OH 44308. Meet us there or meet at the Parkside Church parking lot at 4:30 pm to caravan down. Carpool will leave at 4:45 pm.
Registration Options:
1. Register online below.
2. Pick up a form from any information center and return it to the church office.
3. Register at the table outside the Venue on Sunday morning May 19.
Notice: Pre-registration for this event is required. No walk-ins will be admitted. Registration deadline is May 20.
Register
---