Blog
Event
01/05/18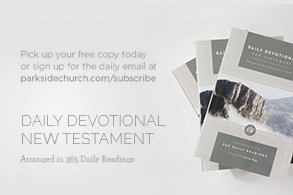 Looking for a new year's resolution that will truly change your life? Consider reading through the entire New Testament this year. The Daily Devotional New Testament provides 365 daily readings in the New Testament books of the Bible, along with reflections and encouragement from the text. 

Pick up your free copy (and one for a friend!) at Books by the Park, or from any usher on Sundays.

You can also sign up online to receive each day's devotional by email. Sign up at parksidechurch.com/oynt.

Happy New Year!
---