Subscribe
The Latest
Help and Hope Groups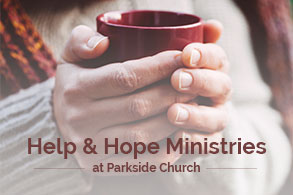 The apostle Paul, in writing to the Corinthians says this, "Blessed be the God and Father of our Lord Jesus Christ, the Father of mercies and God of all comfort, who comforts us in all our affliction, so that we may be able to comfort those who are in any affliction, with the comfort with which we ourselves are comforted by God." (2 Cor. 1:3-4)

In reading this passage there are two things we can be assured of: afflictions are inevitable and God provides comfort in the midst of affliction. Maybe you are grieving the death of a loved one, perhaps walking through a divorce, or maybe struggling with addiction. Our desire at Parkside is for you to know that God provides comfort and help for you. Centered on the gospel, driven by the Bible, with the desire to build biblical relationships, our Help and Hope groups seek to bring people alongside those who are suffering in order that they may comfort those with the same comfort that they themselves have received from God.

Finding Freedom – Begins September 22

Finding Freedom is a 10-week discussion group for those struggling to experience freedom in Christ, whether from unhelpful patterns in their life or severe addiction.

A new session of our Finding Freedom care group begins on Thursday, September 22, at 7pm in Room A203. There is no cost or registration required.

Grieving With Hope – Begins September 22

Grieving With Hope is open to anyone who is grieving the loss of a loved one and would welcome help from the Bible and the warm encouragement of others in similar circumstances.

A new session of our eight-week care group begins Thursday, September 22, at 7 pm in Room A207. There is no cost to attend.

Single Moms – Begins September 29

All single moms are invited to join our fall 2016 care group which begins September 29.

The group will meet every Thursday evening for eight weeks in Room A210 at 6:30 pm and will use the book/DVD series titled, "21 Principles of a Healthy Single Mom" by Lori Little. Each week is self-contained so you may join at any time.

There is no cost to attend and childcare is available. This is a group for single moms of any age or circumstance. For more information, contact Theresa at brownmother3@hotmail.com .

Dealing with Divorce – Begins October 6

Our Dealing with Divorce ministry seeks to provide care for individuals who are going through or have been through divorce and who are looking for practical help from the Bible and the warm encouragement of others in similar situations.

Each fall we run a 7-week session on Thursday evenings that features a large group teaching time followed by a small group, facilitated discussion time. Materials and childcare are provided at no cost. The dates this year are October 6-November 17.

Register here or contact Jacque at jrplatek@parksidechurch.com for more information.

Cancer Support – Meets each month; Next meeting is October 2

Cancer Support is open to anyone whose life has been affected by the painful circumstances of cancer. Meetings are a time of encouragement, fellowship and prayer. We meet in Room B014/B015 at 11:15 AM.

The discovery of cancer can be an unpredictable and frightening season in life. The Cancer Support Ministry is a Bible-based support group designed to help anyone affected by the painful circumstances of cancer. Whether battling cancer currently or acting as a loving caregiver, this ministry provides a place to for individuals to share stories, stresses, worries and celebration.

Our mission is to reach out to our church family and beyond by creating a confidential environment that merges biblical, emotional, social and practical support.
Announcements
Job Opportunity
We are looking for an administrative assistant. This position would be responsible for supporting pastors in multiple ministries and assisting with general office duties. Qualified candidates should have a working knowledge of Microsoft products, excellent organizational skills, ability to cope with changing priorities, and a servant's heart. If interested, please submit your resume to Lisa Scarpello at lscarpello@parksidechurch.com .

October Missions Calendars
October Missions Prayer Calendars are available at all info centers, from any usher, and at the Missions Table in the Commons. Use this tool to help you pray daily for our missionaries and ministry partners.

Play Groups
For children (birth - age 5) on Oct. 4, we will have play groups on the main floor of the Children's Wing 10-11:30am. Bring a lunch for yourself and your child and build friendships with other moms/caregivers afterward.

GEO Kidz
Our midweek ministry for kids in grades 1-5 (boys and girls) begins Oct. 6, 7-8:15pm. Register online in advance so you can check your children in at the desk in the Children's Wing before taking your child to small group.

Career Connections
Changing careers? Need a job? Join Career Connections' full-day workshop on Oct. 8 for biblically based, practical information on planning for and pursuing a job or career. Register at parksidechurch.com/careers .

Parents' Night Out
We will offer respite care for families of children with special needs Oct. 14, 6-9pm. Make your reservations with Troy and Danelle Bennington at 440.465.8311. New to PNO? Contact Renee at rpecek@parksidechurch.com for an info packet.

Young Family Play Day
Families with at least one child under 7 are invited to our Young Family Play Day on Oct. 15, 4-7pm, at the Warehouse. There will be inflatables for older kids and a soft play area for toddlers. We will provide pizza, juice boxes, and water and ask that you bring a side dish to share.
New City Catechism
Q39. With what attitude should we pray? (Philippians 4:6)
Answer: With love, perseverance, and gratefulness; in humble submission to God's will, knowing that, for the sake of Christ, he always hears our prayers.
Family News
Baptism
We rejoice with those being baptized Sunday night: Patrick Cernosky, Nancy Kolodgy, Aaron Miller, Ryan Opalach, Debbie Papa, Phoebe Peiffer, Max Prentis, David Putnam, and Trevor Stevenson.

Marriage
We celebrate with Clint Leibolt and Catherine Wong who were united in marriage on Sept. 24, 2016; and with Chris Finley and Kristen Moore who were united in marriage on Sept. 24, 2016.

Birth
We rejoice with Samuel and Allyson Reid upon the birth of their son, Wesley Paul Reid, on September 16, 2016.

Health Concerns
Catherine Ma, Charlie McMicken, Molly Patel.

Sympathy
We extend our sympathy to Brad Phillips upon the death of his father, Stan Phillips.

Missionary Partners: The Delhi Bible Institute in India
Pray for the 20 men supported by Parkside as they travel throughout Northern India preaching and teaching the Gospel. Pray also for God's wisdom and guidance for Isaac Shaw and the rest of the DBI leadership team of Ramrajh, Abdul, Numgail, Abwan, and Yogatah as they oversee the ministry.
PKS Classifieds
Volunteers Tutors Needed in Euclid
Volunteers, aged 50+, are needed to work with Kdg-2nd graders, helping them develop better literacy skills. Read more >
This Week
September 23 - 29
Friday
6:30pm
"Ask the Doctors" Dinner
Saturday
Sunday
All Morning
Connections Sunday
8:15am
Morning Worship
Nursery
9:00am
Children's Music Ministry
9:45am
Morning Worship
Nursery
Children Classes (ages 2-Grade 5)
Student Classes (MS & HS)
Faithful Friends (Grade 6-Adult)
Standpoint College-Age Life Group
Adult Life Groups
Foundations of the Faith (Class 2 of 10)
11:00am
Nursery Workers Orientation
11:15am
Morning Worship
Nursery
Children's Classes (ages 2-Grade 5)
Faithful Friends, Jr. (ages 5-13)
Parkside Membership Class (Class 3 of 3)
5:00pm
Missions Prayer Time
6:00pm
Evening Worship & Baptism
Nursery
Mission Kids (age 4-Grade 5)
Monday
8:00am
Men's Golf Outing
7:00pm
Men's Bible Study
Tuesday
7:00pm
MS Club JV
Women's Evening Bible Study
Standpoint Women's Small Group
Wednesday
7:30pm
:transit: (ages 22-35)
Thursday
6:30am
Men's Morning Bible Study
9:30am
Women's Morning Bible Study
6:30pm
Single Moms' Care Group
7:00pm
HS Student Life Groups
Finding Freedom Care Group
Grieving With Hope Care Group
Christmas Choir Rehearsal