Subscribe
The Latest
Finding Hope While Fighting Cancer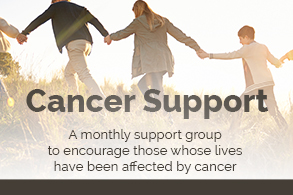 A Trip to the Doctor
by David Radke

I see a lot of doctors. This visit was to my internist. She's a Christian and usually asks me how things are going at Parkside. I was excited to tell her about my part in the Cancer Support Ministry and how it gave hurting people the chance to share their pain, hear from others affected with cancer, and find Christian hope and encouragement. I also told her about our Bible discussions and directed prayer.

Her response shocked me. She wanted to refer her patients who are looking for spiritual help to our group. At the time, I didn't have anything that she could give to her patients, and by the time I got home, I knew we needed something. I immediately wrote a note to Jim Risk, our Cancer Support Group leader, and Pastor Dan Larison to make the request. But then it suddenly hit me, "How are we going to get this material into all those hospitals, clinics, and doctor's offices with all their rules and restrictions?" My next thought was, "God can open doors!"

So now it's a few months later and we have this snappy brochure that invites people to the monthly meeting of the Cancer Support Group and worship service at Parkside. But we need your help to open doors for this ministry opportunity.

Here's How You Can Help
Medical Professionals: Do you know any physicians, nurses, or other medical personnel who would allow us to place our printed material in their waiting room displays or allow staff to directly hand them out? If so, you can pick up brochures at the church by contacting Jacque Platek at the church office. Please be sure to obtain approval before leaving any literature in offices or waiting rooms.

Family, Friends, and Neighbors: Pick up a few of our brochures that can be found at any of the information displays throughout Parkside and give them to your family, friends, neighbors, and even your own doctors to invite them church and to let them know about the Cancer Support Group's monthly meeting.
About Cancer Support
The Cancer Support Ministry is a Bible-based support group designed to help anyone affected by the painful circumstances of cancer. Whether battling cancer currently or acting as a loving caregiver, this ministry provides a place to for individuals to share stories, stresses, worries, and celebration.
Our mission is to reach out to our church family and beyond by creating a confidential environment that merges biblical, emotional, social and practical support.
We meet on the first Sunday of each month during the 11:15am service in Room B014/B015. The meetings are free to attend and open to the public. Join us for our next meeting on
February 5
.
If you have questions, or can help us with distributing our printed material, please contact me by phone at 216-408-2994 or email at
dradke8927@aol.com
. Or, contact Jacque Platek at
jrplatek@parksidechurch.com
.
With gratitude,
Dave Radke
Announcements
Parking Crew Help Needed
Be the first to greet someone each Sunday as they arrive at Parkside by joining the Parking Crew. The Parking Crew serves alongside the local police department during the morning services. They help observe and direct the flow of traffic onto, within, and away from the church property. Individuals serve on a team about once a month on Sundays. This is an easy way to make an important contribution to life at Parkside. More info at www.parksidechurch.com/parking .

Iron Sharpens Iron Meeting
Anyone who has attended our How People Change and Helping Others Change workshops, along with mental health professionals and our active lay counselors, are welcome to attend the Iron Sharpens Iron meeting on Jan. 26, 6:30-8:30pm in Room A222. Visit parksidechurch.com/ISI .

Single Moms' Care Group
The winter session of our Single Moms' Care Group will begin on Jan. 26 at 6:30pm in Room A210. The group is open to single moms of any age or circumstance. There is no cost to attend and childcare is available.

Children's Music Ministry
Rehearsals for our winter/spring semester have begun. We meet in C001, 9-9:30am on Sundays. New children, ages 4-12, are welcome to join at any time. For info or to get on our email list, contact Kelly Monday at 330.998.5016. We will be having a family pizza fellowship gathering for all children in the music ministry and their families. If you would like to involve your child in the music ministry, join us at 6pm on Jan. 27 at the Warehouse. RSVP to Kelly Monday.

Youth Ski Day
Middle school and high school students, grab your friends and come ski, snowboard, or go tubing with us at Brandywine Ski Resort on Jan. 28, 1-6pm. More information and registration is available at parksidechurch.com/ski .

Play Groups
Play Groups is for children, birth-5 years old, on the main floor of the Children's Wing on Feb. 7 at 10am. Bring a lunch for you and your child to enjoy with other caregivers and kids afterwards.

Young Family Play Day
Families with at least one child under 7 are invited to our Young Family Play Day on Feb. 11, 4-7pm, at the Warehouse. There will be inflatables for older kids and a soft play area for toddlers. We will provide pizza, juice boxes, and water and ask that you bring a side dish to share.

Caregivers' Support Winter Luncheon
A luncheon will be held on Feb. 12 at 12:30pm in Room A221 for anyone who is caring for a loved one with memory issues. Care and lunch will also be available for your loved one in Room A226. Please RSVP at parksidechurch.com/caregivers . A few people are needed to help provide respite care during the meeting. If you are available, contact Jacque at jrplatek@parksidechurch.com .

Marriage Matters Small Group
A new six-week session of Marriage Matters Small Group will begin Feb. 28 in Room A205, 6:30-8:30pm. For more info or to register, visit parksidechurch.com/marriagematters .

Dealing With Divorce: The Seminar Series
Dealing with Divorce will present a 7-week series, beginning Feb. 23 at 7pm in Room A226. Each week will feature a different divorce-related topic and speaker. Childcare will be available. There is no cost to attend. Register online at parksidechurch.com/divorce .

Walk Worthy Men's Conference
Men, mark your calendar for March 4 for the Moody Men's Conference that will be held at Parkside. Tickets must be purchased directly from Moody online . No tickets will be sold at Parkside.

2016 Contribution Tax Statement
2016 contribution tax statements will be available to print via your online account by January 15, 2017. A statement can be mailed by contacting Mark Gifford. Please contact Mark at 440.708.2151 or mgifford@parksidechurch.com with any questions or concerns about your statement or logging into your account.

Save the Summer Dates!
Upward Bound Vacation Bible Camp is June 12-16, 9am-Noon; and Ambassadors Soccer Camp is July 11-15, 9am-3pm. Additional details will be available about both summer events soon, but save them on your calendar now.
New City Catechism
Q4. How and why did God create us? (Genesis 1:27)
Answer: God created us male and female in his own image to know him, love him, live with him, and glorify him. And it is right that we who were created by God should live to his glory.
Family News
Sympathy
We extend our sympathy to Jerry Webbs and his family upon the death of his father, J.C. Webbs.
Health Concerns
Catherine Ma, Charlie McMicken, Molly Patel, Bob Butts Sr.
Parkside Short-term Missions Trip to India
Please pray for the 12 members of the medical team who are in Delhi, India, to serve with the Delhi Bible Institute: Toni Copenhaver, Wayne Fleck, Sue Heitzmann, Tiffany Kral, Paul Lungu, Merilee Marshall, Jim Miller, Cheryl Ogden, Rebecca Rimback, Melissa Seuffert, Rosa Tang, and Barry Taylor. Pray that they will be an encouragement to the pastors and Christian workers there as they care for medical needs. Pray that they will show the love of Jesus to all they meet. They return to Cleveland on January 29.
PKS Classifieds
Car on Sale
We recently moved from Texas to Medina Ohio and we are attending Parkside Church for the last 3 months. Because of ice and snow in Ohio we have bought a new car with AWD and I'm putting my 2008 Blue Corolla CE on Sale. Read more>
This Week
January 20-26
Friday
6:30pm
Boys' Game Night
Saturday
Sunday
All Morning
Missions Table
8:15am
Morning Worship
Nursery
9:00am
Children's Music Ministry
9:45am
Morning Worship
Nursery
Children Classes (ages 2-Grade 5)
Student Classes (MS & HS)
Faithful Friends (Grade 6-Adult)
Standpoint College-Age Life Group
Adult Life Groups
11:15am
Morning Worship
Nursery
Children's Classes (ages 2-Grade 5)
Faithful Friends, Jr. (ages 5-13)
Parkside Membership Class (Class 3 of 3)
5:00pm
Missions Prayer Time
6:00pm
Evening Worship
Nursery
Mission Kids (age 4-Grade 5)
9:18pm
Mexico Team Returns
Monday
7:00pm
Men's Evening Bible Study
Tuesday
7:00pm
Club JV (Middle School)
Women's Evening Bible Study
Standpoint Women's Small Group
Wednesday
7:30pm
:transit: (ages 22-35)
Thursday
6:30am
Men's Morning Bible Study
9:30am
Women's Morning Bible Study
6:30pm
Single Moms' Care Group
ISI Meeting
7:00pm
Student Life Groups (High School)