Subscribe
The Latest
Book Recommendation: Christmas Playlist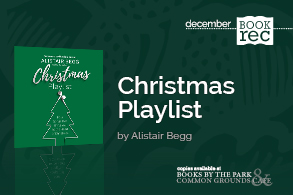 Once December comes around it is easy to be captivated by holiday decorations and twinkling lights, Santa Claus sightings, Christmas trees, and Christmas presents. However, according to the Bible, these things actually have nothing to do with the true meaning of Christmas. If we took them all away, we would still have Christmas. Why? Because Christmas is really all about the person and work of Jesus.

In Pastor Alistair Begg's new book, Christmas Playlist: Four Songs that Bring You to the Heart of Christmas , we learn about the true meaning of Christmas through four songs presented in the Gospel of Luke. Each of these songs answers four questions:
What is God like?
Why do you need God?
How did God come?
and,
How did God do it?
Throughout these songs, the "beats" of the "gospel drum" rise to a crescendo causing us to come face to face with the question, "Is this really what Christmas is about?" If it is, then the skeptic should question their skepticism; the unbeliever should consider what it would mean to believe; the new believer should grow more confident in their faith; and, the seasoned believer should be reminded of the glory of the true meaning of Christmas. With a clear presentation of Jesus and the gospel, this brief and accessible book can help put our hearts in tune with what the Bible teaches us is the true meaning of Christmas.
You can pick up your copy of
Christmas Playlist
at Books by the Park. For more book recommendations to help you grow your personal library, please
visit our website
.
-Pastor Nick Spurgeon
Announcements
Entry Level Administrative Assistant
The church office has an opening for an entry level administrative assistant. Position is full-time Monday through Friday. Candidates should have a working knowledge of Microsoft products, strong organization skills and be comfortable handling multiple and changing priorities. For those interested, please submit your resume to Lisa Scarpello at lscarpello@parksidechurch.com .

Missions Table with Jeffrey and Katherine Robinson
Stop by the Missions Table in the hallway outside the Venue this Sunday morning and greet Jeffrey and Katherine Robinson, missionaries with GEM in Germany. You can also pick up a copy of the December Prayer Calendar and information about all of our Parkside Missionaries.

Cancer Support Christmas Lunch
Cancer patients, survivors, and their families are invited to join us for a Christmas lunch on Dec. 4 at noon in Room B020/B021. Main dishes and beverages will be provided. Bring an appetizer or side dish to share. RSVP to Dan Chan at DanRobbin@gmail.com .

Play Groups
Play Groups will be offered to children, birth - 5 years old, on the main floor of the Children's Wing on Dec. 6 at 10am. Bring a lunch for yourself and your child to enjoy with other caregivers and children afterward to build friendships.

Parents' Night Out
Our next PNO will be Dec. 9, 6-9pm, by reservation only. Please contact Troy and Danelle Bennington to RSVP if you plan to utilize this ministry. If you are new to PNO, contact Renee at rpecek@parksidechurch.com for an info/application packet.

Christmas Benevolence Project
Parkside Church desires to share the joy of Christmas with families in need, both in the Cleveland area and our surrounding community, by purchasing essentials and Christmas gifts for children in these families. If you would like to join us please place your check in the offering plate with "Christmas Benevolence Project" on the memo line. We will do the shopping!

Parking Crew Help Needed
Be one of the first to greet and help someone each Sunday. Men and Women who help serve one Sunday each month. More info at www.parksidechurch.com/parking .

Irish Christmas -- A Celebration of Carols
Join Keith and Kristyn Getty for a special evening of music, singing, and the celebration of the joy of Christmas! The event will be at Severance Hall on Dec. 21, and Alistair Begg will give a brief talk. Purchase tickets at www.clevelandorch.com , or by calling 216.231.1111.
New City Catechism
Q49. Where is Christ now? Ephesians 1:19–21)
Answer: Christ rose bodily from the grave on the third day after his death and is seated at the right hand of the Father, ruling his kingdom and interceding for us, until he returns to judge and renew the whole world.
Family news
Baby Dedication
Join us in thanking God and praying for Cade Shunyiu Miller, the son of Nick & Karen Miller.

Birth
We rejoice with George and Krista Ochenjele upon the birth of their son, Rubin Andrew Ochenjele, on November 5, 2016.

Sympathy
We extend our sympathy to Frank and Dottie Krieger and their family upon the death of their son, Allen Krieger.

Health Concerns
Catherine Ma, Charlie McMicken, Molly Patel.

Missionary Partners: Pastoral Assistants in Bolivia
Pray for the 14 Pastoral Assistant volunteers (PAs) studying 16 hours each week, preparing messages, and preaching through the book of Romans. Pray that pastors will build a strong commitment to Biblical friendship so they will stop walking alone but rather walk together with other pastors. Pray that church leaders will experience true unity in Jesus as they walk together under the banner of the Gospel. Pray for Pastor Javier Soliz and the three PAs he is training while working to plant a church in Santa Cruz, Bolivia.


PKS Classifieds
Home for Rent
Three bedroom, 2 bath, 2 car garage on quiet street in Bainbridge Township. Read more>
This Week
December 2 - 8
Friday
6:30pm
Sojourners Christmas Celebration
Saturday
9:00am
GEO Kidz Service Saturday
1:00pm
Christmas Choir Rehearsal
Sunday
All Morning
Missions Table with Jeffrey and Katherine Robinson
8:15am
Morning Worship
Nursery
9:00am
Children's Music Ministry
9:45am
Morning Worship
Nursery
Children Classes (ages 2-Grade 5)
Student Classes (MS & HS)
Faithful Friends (Youth-Adult)
Standpoint College-Age Life Group
Adult Life Groups
Baptism 101 (Class 1 of 3)
Foundations of the Faith (Class 10 of 10)
11:15am
Morning Worship
Nursery
Children's Classes (ages 2-Grade 5)
Faithful Friends, Jr. (ages 5-13)
Cancer Support Group
Parkside Membership Class (Class 1 of 3)
12:00pm
Cancer Support Christmas Lunch
12:30pm
Single Moms Christmas Lunch
5:00pm
Missions Prayer Time
6:00pm
Evening Worship & Communion
Nursery (Birth-Age 3)
Mission Kids (age 4-Grade 5)
7:15pm
High School Gathering
Monday
This Week
Midweek Life Groups
Tuesday
10:000am
Play Groups
7:00pm
MS Powerhouse Groups
Christmas Choir Rehearsal
India Team Meeting
Wednesday
6:30pm
Standpoint Men's Small Group
Christmas Choir Rehearsal
7:30pm
:transit: (ages 22-35)
Thursday
7:00pm
PKS Christmas Concert