Soccer Camp
Event
05/29/15
Location: Parkside Church
Start Time: Tue 7, July 2015, noon
End Time: Sat 11, July 2015, 4 p.m.

If you're looking for a summer camp for your soccer enthusiast that offers excellent coaching and is centered around principles found in God's Word, then we invite you to consider our Ambassadors Soccer Camp, July 7-11. This camp is designed for developing players ages 6-16 and encourages them in learning basic and advanced skills in a fun Christian environment. Many of the coaches are experienced players with international backgrounds, and the camp provides an excellent opportunity for kids to meet believers from around the world.

This year, camp will be held at Parkside Church, and we are excited about the opportunity to reach into neighborhoods in our area. Does your child play on a local recreation or travel team? We encourage Parkside families to talk to their children's coaches and teammates and invite their friends to attend Ambassadors camp! The skills learned, along with the Christian example and leadership of Ambassadors coaches, promises to be a rewarding experience for each child who attends. If your family has never participated in an Ambassadors camp, click here to view a 2014 camp video created by Ambassadors.

THIS SUNDAY, May 3t is the final day to receive an early bird discount. Before May 31, registration is $130/camper. After May 31, camp cost is $155. Scholarships are available. Contact Kelly Coy at kcoy@parksidechurch.com to discuss. Ambassadors Football representatives will be at a table in the Children's Wing on Sunday to talk to families about camp. Don't miss out on the early bird discount! 

REGISTER TODAY! 

Camp Helpers Needed

We provide daily lunches for coaches as well as general assistance at the camp daily. If you could lend a few hours on July 7-11 to help at camp, that would be greatly appreciated. Teen helpers are welcome and can receive service hours for school. We are specifically looking for: food helpers, registration/check-in helpers, clean-up helpers, and a medical person to be on site each day.

Questions about registration or helping?  Contact Karen Heise at 440-476-7637.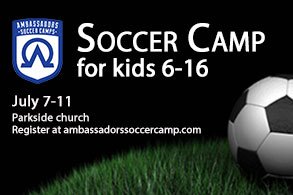 ---