Young Adults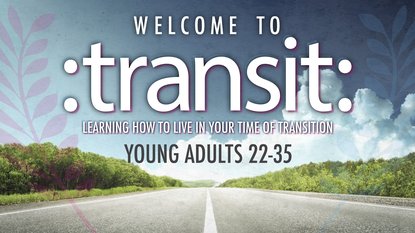 What is transit?
:transit: is a ministry of Parkside Church for young adults, single or married, ages 22-35. At Parkside, we are aware that we are enormous, and finding a place can seem challenging at first. :transit: offers a smaller-scale, mid-week, contemporary worship and learning event, in addition to organized opportunities for fellowship. We hope to present a more realistic and enjoyable starting point to get involved with Parkside's ministries and become an active part of a church family.
:transit: takes its name from the dynamic time of transition typically experienced in one's 20s and early 30s. Our ministry is designed to help you victoriously navigate these trying years, in increasingly uncertain times, with a foundation of timeless, scriptural truth. There is no better time than right now to learn how to live more spiritually, and set a more Christ-like direction for the entire rest of your life.
At :transit:, you can expect to deepen your understanding of how God's ancient words apply to your unwritten future, while developing relationships with fellow believers. You will be able to do this in smaller group settings than you would encounter at a typical Parkside service, in the company of your peers.
Where is it?
Wednesday Nights 7:30pm @ the Loft
31200 Solon Rd. Solon, OH. 44139
Our main event at :transit: is a weekly, large-group meeting night. These Wednesday night gatherings, typically attended by up to 60 of your new friends, run from 7:30pm to 8:30pm. A time of worship music is followed by a relevant scriptural message. Our program goes on for about an hour, with up to an extra hour and a half dedicated to hanging out. While our Wednesday night meetings are considered "casual," you can expect to see everything from jeans and t-shirts to the J. Crew catalog in the audience.
Come as you really are. And we look forward to seeing you there!
Tell me more...
:transit: General Info
Contact: Rachel Peteya (transit@parksidechurch.com)
:transit: General Announcements
Text 'Transit' to 69922 to receive text updates (Msg&data rates may apply. Reply STOP to cancel, HELP for help.)
Find us at...
Facebook: https://www.facebook.com/parksidetransit
Twitter: @parksidetransit
Instagram: @parksidetransit