Blog
Event
11/24/17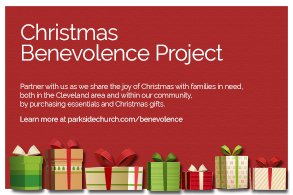 Parkside Church desires to share the joy of Christmas with families in need, both in the Cleveland area and our surrounding community, by purchasing essentials and Christmas gifts for these families. Our goal is to offer families hope during the holiday season: the hope that comes from generosity, and the hope that comes from Jesus.

You can help by donating money or time.

Donate Money: 

You can partner with us by placing your checks in the offering plate with "Christmas Benevolence Project" on the memo line. Donations will be accepted through December 31.

Donate Time:

1. Shop: Shop for a family in need from the one of the communities surrounding Parkside. Drop off the gifts and receipts at the church. You will be reimbursed for your purchases from Christmas Benevolence Project donations.

2. Wrap: Come to the church office whenever it's convenient for you to wrap and label the gifts that have been purchased.

3. Deliver: Fill your mini-van, truck or SUV with the wrapped gifts and deliver them to the organizations we are partnering with.

Volunteer Here

Questions? Contact Jacque at jrplatek@parksidechurch.com or 440-708-2109.
---