Blog
Event
09/22/17
Location: The Venue
Start Time: Sat 7, Oct. 2017, 8:25 a.m.
End Time: Sat 7, Oct. 2017, 4:30 p.m.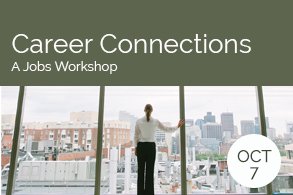 Changing careers? Need a job?

Join Career Connections' full-day workshop on Saturday, October 8, for biblically based, practical information on:
Choosing the best career for you
Crafting a great resume & cover letter
Developing a network of professional contacts
Finding out about openings & pursuing leads
Understanding interview dynamics
Trusting God's provision during your transition
Check-in and a continental breakfast will begin at 8:00 am. First session begins at 8:25. Lunch is also provided. Additional, targeted follow-up sessions will be held on weeknights after the workshop.

All are welcome!

For more information, contact Jacque at jrplatek@parksidechurch.com.

Register here to reserve your spot for the Saturday workshop!
Register
---