Blog
Event
07/28/17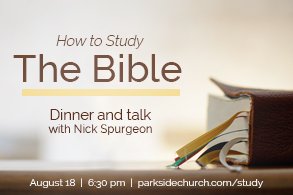 Is studying the Bible that important? Does everyone have the ability to do it, or is it only for pastors, scholars and those specially trained? Are there ways to make studying the Bible easier?

Learn how to get more out of your personal Bible reading and study on Friday, August 18. Dinner will be served in the Venue at 6:30 pm, followed by a presentation from Pastor Nick Spurgeon. Cost is $10.

Register online or at the table outside the Venue on Sunday mornings July 30, August 6 or August 13.

Questions? Contact Jacque at jrplatek@parksidechurch.com.
---