Blog
Event
08/25/17
Location: The Auditorium
Start Time: Thu 21, Sept. 2017, 6:30 p.m.
End Time: Thu 21, Sept. 2017, 12:30 p.m.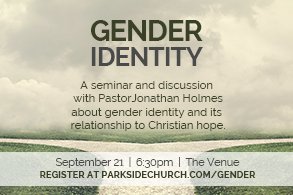 On September 21, from 6:30-9pm in the Venue, Pastor Jonathan Holmes will be leading a conversation regarding gender identity issues and their relationship to Christian hope and charity. Attention will be given to a biblical understanding of gender and how to approach the issue in a Christ-centered, culturally-informed manner.

There is no charge, but a reservation is requested. Childcare is not provided for this event.

Register online by Sept. 20 at parksidechurch.com/gender.
Register
---