Basics Conference
Event
03/09/18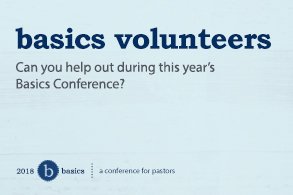 The Basics Conference for pastors and Christian workers will be held at Parkside Church this May 7-9, 2018, and we need your help. With as many as 1,000 pastors, missionaries, elders, evangelists, and other Christian workers expected to attend, we are looking for volunteers to help us with host homes, prayer, and set-up.

This annual event continues to serve as a bright spot for guests from all around the world who gather at Parkside to recharge and reflect on the challenges, responsibilities, and privileges of pastoral ministry. Your service helps ensure that our brothers in Christ are well-cared for during their time with us.

If you've been looking for a way to serve or get connected with other people at Parkside, consider volunteering for Basics. Not only is this a great opportunity to get to know other Parksiders, it is also a wonderful opportunity to show the love of Christ by providing a warm and welcoming experience for our guests.

Sign up today! For more information, contact the following team leaders:
For more information about Basics, visit basicsconference.org.
---