The Harrington Family
Event
05/25/21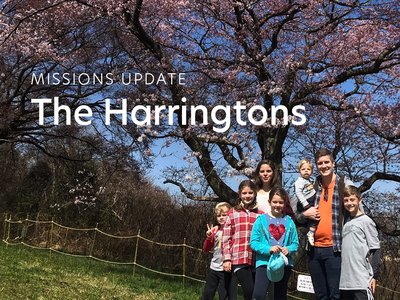 Praise the Lord for his faithfulness to us, our Japanese church family, and the ministry here in Japan this past year. Like churches in America, due to the pandemic the Japanese church has needed to adapt their ways of doing ministry. In the past, Shiogama Bible Baptist Church (SBBC) held numerous events at the church in order to invite unbelievers. The goal was to provide an opportunity for unbelievers to interact with Christians and to begin to feel comfortable in the church building.  
 
One of the major changes for us has been the inability to do large gatherings. Because of COVID restrictions, we have needed to adapt. Things we used to do in bigger gatherings we have broken out into smaller, more personal gatherings at different families' homes. An example of this was that instead of a big Christmas production, the church provided Christmas materials (story boards, crafts, etc.) about the true meaning of Christmas for people in the church to use with family or friends. The church has also been encouraging general neighbor-to-neighbor hospitality as well. We feel this will be a beneficial change in approach. We hope that encouraging believers to bring people into their  homes and share Christ on their own will be a long-term direction moving forward. 
A year ago, we wondered how we would get to know people in our new community in the midst of a pandemic. The Lord has made ways for us to connect with different families in our new town of Shichigahama. So many of the normal town outlets (clubs, events, etc.) have been disrupted, which seems to have created a deep need for relationships. We are so thankful to be able to step in and meet those needs one family at a time. We are thankful to not be doing this alone. The rest of the people on our church planting team are also focusing on the community as well. We marvel at how the Lord provided an inexpensive place for us to be able to meet. Because of the size of the place, we have been able to meet regularly twice a month.
We thank you all for your prayer support over this last year. Please continue to pray for the people of Shichigahama. May the Lord continue to give us opportunities to love on our community and share Christ with others.
---