Blog
Event
11/10/17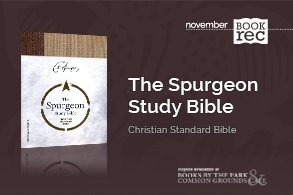 Edited by Alistair Begg, the CSB Spurgeon Study Bible will be the first Bible to include original texts, handwritten notes and never-before published works by Charles Spurgeon. Called the "Prince of Preachers," Charles Spurgeon preached to more than 10 million people in his lifetime and his written sermons have impacted millions since 1866.
"The CSB Spurgeon Study Bible is remarkable as a resource," says Alistair Begg. "It brings together diverse materials from Charles Spurgeon that typically would take much effort to find. For someone like myself who is a long-time Spurgeon fan, this is an invaluable tool, but for anyone new to Spurgeon, this study Bible is going to be a revelation."
The CSB Spurgeon Study Bible features the highly readable and highly reliable Christian Standard Bible (CSB) version which holds to scripture's original meaning without sacrificing clarity. Specific features of the CSB Spurgeon Study Bible include:
Introductory biography of Charles Haddon Spurgeon
Study notes crafted from 20 Spurgeon sermons
58 extracted sermon illustrations, appearing alongside the associated biblical text
Sermon notes and outlines in Spurgeon's own handwriting
314 "Spurgeon Quotables" inserted throughout
Book introductions with book overviews in Spurgeon's own words
Topical subheadings
Two-column text
Concordance
Smyth-sewn binding
Presentation Section
Full-color maps
The Christian Standard Bible® (CSB), a newly revised translation from Holman Bibles, prioritizes both accuracy and readability, making it a trustworthy text for both pastors and church members. The CSB translation is available on all major Bible apps and portals. Recent CSB Bible products include She Reads Truth Bible, CSB Apologetics Study Bible, CSB Apologetics Study Bible for Students and CSB Read to Me Bible for children. In addition, David C. Cook chose the Christian Standard Bible as its featured translation for The Good Book project, which released in 2017. Full details on the CSB translation and Bibles are available at www.CSBible.com.
---