Men
Event
06/24/16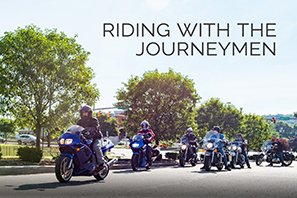 The Journeymen riders group is one of many small groups at Parkside that provide great fellowship through a shared interest. For us, it's motorcycling.

Last weekend, we embarked on a 230-mile ride to Mount Vernon, Ohio, on a sunny, 90 degree day. It just doesn't get any better.

We started the day at 8AM at Starbucks in Twinsburg with fifteen motorcycles. From there we headed south to the Cuyahoga Valley National Park and took a scenic route through Wooster, Holmes County, and Millersburg, and then twisted our way through Danville arriving in Mount Vernon just after noon.

We stopped for lunch at the Southside Diner where the sign out front said, "Good Pie" -- always a good sign. We were greeted warmly and sat in the middle of the dining room at a table that held our entire group. You can imagine that we were quite a sight when we walked in and that other diners might be wondering if there was going to be trouble! After ordering our meals, all fears were set aside as we bowed our heads and prayed out loud with thanksgiving for our safety and for the meal we were about to receive.

After dining, we rode to the Rastin Tower, a smokestack from the old PPG plant in the beautiful Ariel Foundation Park. We climbed 224 steps for a great view of Knox County more than 140 feet off the ground. On the way home, stopped at the Hartzler Family Dairy for fresh ice cream, and then rode through Medina arriving home around 5:45PM.

With each ride, new relationships are made as we share in life's joys and trials. Here, "tough guys" open up to each other and bear each other's burdens. Men need that.

We read from the Bible, pray together before the rides and at meals, and find great fellowship in sharing our challenges and joys with each other. Our time together is great way to break down barriers, share our faith, and look to Jesus. Our time of prayer has been a witness to those who were not part of our group, but who were watching. We have actually had onlookers walk up and join in our prayer time and we have invited people at the restaurants we visit to join us in prayer before meals.

So the next time you're on the road and see a big group of motorcyclists, remember they just might be a part of your church. Jesus died for sinners and some of them ride motorcycles.

Yours in Christ,
Dave Friihauf

About Journeymen Riders

Our first ride in 2008 had four riders. Since then the ministry has grown to a mailing list of 75 individuals, encompassing many local churches with as many as 22 riders attending a single event. A friend recently remarked "It's official...You have the coolest ministry!"

The Journeymen ride once a month from May through October. Rides are open to all men: whether they are believers or not, whether they attend Parkside or not. We seek to include men who share a similar interest for a time of encouragement and fun!

Joining a small group is quick way to make a big church feel small. Don't wait. Get connected!

To join the next ride, or for more information, contact Dave Friihauf at dfriihauf@gmail.com.

To see more photos from last week's ride, check out our gallery on Flickr.


---