Basics Conference
Event
05/12/17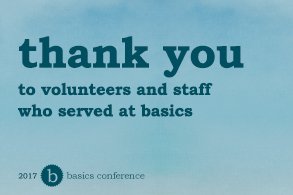 This week, we had the privilege of hosting over 1,200 pastors and Christian workers at our annual Basics Conference.

Our theme this year was "Remind them of these things," and the attendees were encouraged and challenged from the scriptures by Alistair and guest speakers Sinclair Ferguson and Albert Mohler.

In addition to being exposed to rich teaching, our guests were welcomed and served by many volunteers from Parkside, who helped set up the church, hosted men in their homes, served them meals, and led them in worship.

On behalf of the entire staff at Parkside, I would like to extend a sincere thank you to everyone who gave of their time and energy to bless the attendees: whether you were praying for them, helping them find their way around the building, or cleaning up after them, thank you for serving Christ and helping make Basics possible!  From my perspective, this week was a wonderful living picture of Ephesians 4, in which many saints used their unique gifts to build up the larger body of Christ.
Our hope and prayer is that the men who joined us were refreshed by their time here and that they have returned home strengthened to continue in Gospel ministry. Please join us in praying for much fruit from the conference.

Sincerely,
Pastor Dan Southam
---