Blog
Event

05/06/17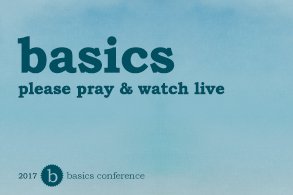 This Monday marks our 18th annual Basics conference for pastors, missionaries, evangelists, and Christian workers or those training for such roles.

Please help us prepare for this three-day event by praying for our speakers, attendees, volunteers, and Parkside team members as we come together to reflect on the challenges, responsibilities, and privileges that face the modern church.

You may watch the free Livestream which begins May 8th at 3:00pm EST at www.basicsconference.org.
Setup Volunteers Still Needed

With the start of our annual Basics Conference right around the corner, our facilities team needs 20 volunteers to help with setup on Sunday, May 7, at 12:45pm.

Help includes moving tables and chairs, setting up the pastors' lounge areas, cleaning tables, vacuuming rooms and halls, setting up breakout rooms, and hanging directional signs.

If you can help out on May 7, after the last morning service, please sign up today!
---